Back
030798
Building B11 – Hôpital de La Tour
Companies
Types of mandate
Private mandate
Full SIA services in partnership with Aris Serbetis Architecte
Technical informations
13,169 m2 of renovated space
1,206 m2 of new space (raised)
Uses:
Sterilisation, office space, Oncology Centre and Otium Centre, Pain Centre, Fertility Centre, Metabolism and Obesity Centre, Cardiorespiratory Department, IBD Centre, Urology Department, Occupational Medicine, storage, car park
Sustainability
Connection to the GIS CAD and FAD systems
Building to HPE (High Energy Performance) standards
Renovation and conservation of as many existing elements as possible
Densification by raising the height of the building to avoid the need for additional floor space
315 m2 of photovoltaic panels
LED lighting
Dates
Project/design phase: from 2019 to 2021
Prior approval issued in February 2020
Planning permission issued in May 2021
Site opening: May 2021
Out of water/out of air: December 2021
Handover of the 4th floor: June 2022
Handover of the last rooms (sterilisation) : February 2023
Location
Meyrin
Collaborators
A. Micoud, E. Pialoux, E. Zollet, A. Lima,
J. Martinez, S. Gremaud, S. Joye, P. Voto,
J. Fromentin, L. Rossi, C. Tobler
From industry to healthcare
Acquired in 2019 with the aim of continuing the development of the Hôpital de la Tour health centre, Building B11
was constructed in the late 1980s, initially to house Hewlett Packard. At the junction of the Route du Mandement
and the Route de Meyrin, this pure product of industrial architecture has many assets. It is ideally located, opening onto
a vast agricultural area with the CERN complex and the Jura mountain range in the background. It also has the advantage
of a gentle slope, making it easy to create two separate access points: an upper ground floor, accessible from Meyrin Village, with a magnificent landscaped terrace as a reception area; and a lower ground floor, separate from the rest, for deliveries
of consumables.
The main challenge of this project was to transform the original large floor plates into smaller structures suitable for accommodating spaces dedicated to healthcare. One of the greatest challenges of the project was to fit all the technical elements into the pre-existing truss system. A project in itself, it required a major coordination effort. The other special feature of the project was the complete overhaul of the building envelope: on the one hand, to give it a unified treatment with the other parts of the hospital complex, in particular Building B2; and on the other, to enable the structure to achieve high energy performance standards. This work was accompanied by a densification programme, with the building being given an extra storey to facilitate the extension of the planned training and research areas. Renewable energy has also
been given pride of place, with the building connected to the district heating (CAD) and district cooling (FAD) networks,
and photovoltaic panels installed on the roof to ensure a high level of energy self-sufficiency.
At the time of the inauguration, the contrast was striking. The radical transformation of the building will have helped
to restore it to its former glory. It will also have given the departments and research centres that have taken up residence
there - oncology, respiratory cardiology, pain, fertility, intestinal disease and occupational medicine centres - a new setting
in an idyllic setting.
3'500m2
of renovated façade
315m2
of photovoltaic panels
40%
reduction in energy requirements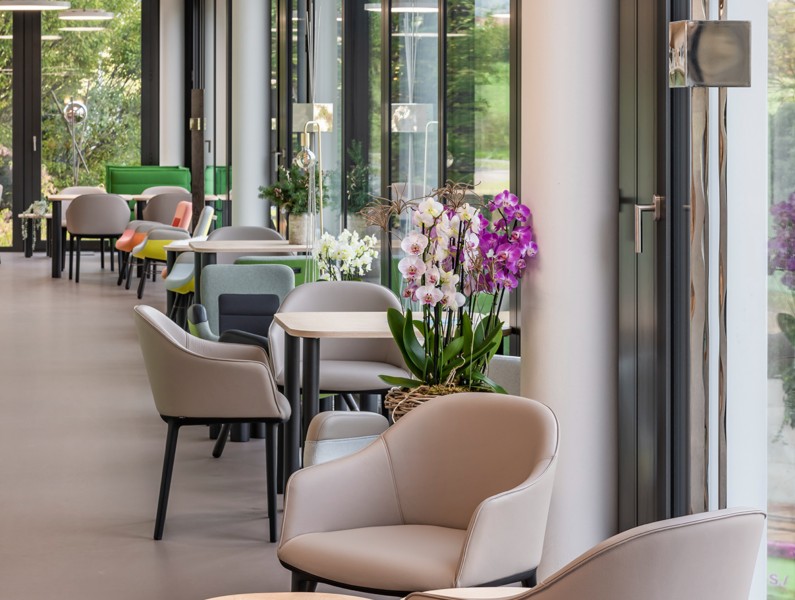 menu